Real estate platforms are becoming increasingly important as the competitive landscape for real estate teams is changing faster than ever. This study compares the major platforms that combine lead generation, websites & CRM into a turn-key solution based on over 800 responses from real estate professionals.
According to NAR, 87% of all real estate agents fail within 5 years of getting their real estate license. The one thing that the 13% who succeed have in common is that they are constantly improving their tools, methodologies, and processes. To help teams and brokerages stay ahead of their competition, this study reviews the performance of leading all-in-one providers that combine lead generation/marketing, consumer-facing websites, real estate CRM, and coaching.
Over 800 responses were submitted with a total annual production volume in the billions.
We selected five all-in-one software products most-used by real estate agents and brokerages. Over the course of 4 weeks, we obtained 874 responses who visited Inman, Realty Leadership or Forbes. These readers were found using the Google Display network as well as articles and newsletter placements. We used these responses as one of the primary data sources in our study
The survey asked the participants to share their experiences and perceptions of a variety of platforms. These tools included well-known brands such as BoomTown and Kunversion (kvCORE), as well as newer platforms, such as Great Agent.
This study measured six different aspects of performance ranging, from Return on Investment to Customer Service. Participants were also asked how likely they were to recommend that provider, and the result of that question serves as a summary of the overall result of this study:
Overview and Comparison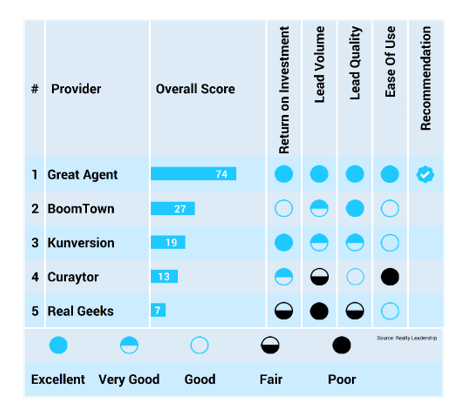 While some agents, brokers and teams prefer to use separate tools to achieve certain goals, all-in-one solutions become increasingly popular. The first provider to create this offering was Boomtown. While it is still one of the biggest players, and our second recommendation, their solution is becoming increasingly dated. Most of these platforms were developed before the smartphone age, allowing them to become the devices of choice not only for the real estate professionals, but also for home buyers and sellers. Functions such as mass texting, voice drops, and MLS alerts with pictures using MMS are just some of the features that are crucial and yet missing from the major providers.
Open rates on emails are continuing to drop to an all-time low of about 9%, according to Forbes, whereas open rates on text messages remain at an amazingly high 99%. Over 90% of home buyers and sellers use their smartphone as a primary way of browsing for homes, and yet the major providers such as Boomtown and Kunversion (kvCORE) are still delivering a mobile experience that is significantly inferior to that of modern providers.  Providers such as Great Agent have developed their platforms after the shift in consumer behavior.
These limitations of the other providers might be the main reason that Great Agent is greatly leading the survey of brokers and teams not only for return on investment, but also lead quality, and ease of use, ending as the top all-in-one provider – thus earning our purchase recommendation.