A recession isn't necessarily all bad news.
Ever since the Great Recession of 2008, anxiety and downturn in the economy as a whole has been equated with the same effects in the housing market.
Statistically, however, such a correlation has been the exception rather than the rule. In fact, throughout history, the housing market and the economy have had an inverse relationship. In other words, when the economy suffers, housing could provide a safe haven.
The reason for this relationship is usually that mortgage and interest rates fall when the economy does. So while potential buyers may be in a less advantageous position to purchase a home, the housing market trends toward meeting those needs.
Today vs. 2008
The 2008 recession has left such an imprint on the public consciousness that it often seems more recent than a full decade past. But unlike in 2008, the ratio of household debt to total income in 2018 is lower than it has been in 15 years.
Ten years after the Great Recession, professionals have taken steps to address the subprime mortgage crisis that precipitated it. This was a primary reason for the housing market crash in 2008. It is very unlikely that a similar threat hangs over the market this year.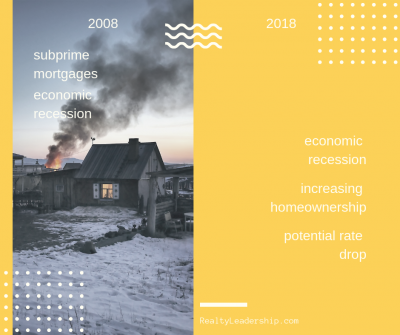 One upside to the housing market crash is that investors, lenders, and consumers can and have learned from their mistakes and the mistakes of others. Thus, memories of the crash should serve not as an ill omen for future decades, but as a cautionary tale that allows all involved to take more conscientious and ethical action.
The pursuit of stability
While existing home sales fell slightly in the first half of the year, new home sales rose by more than 7 percent. The stability of these trends in the market depends on the balance between housing affordability and home value.
In other words, a rise in home prices is good for the market, but only insofar as prospective buyers are able to afford those homes. This actually grows more likely during a recession if mortgage and interest rates fall as they historically have.
Ken Leon of CRFA, director of equity research, maintains that because the housing market is experiencing a scarcity in inventory, prices should remain stable and possibly even inch higher. This is good news, because it means that home values are remaining healthy while likely not launching home prices into an unaffordable realm.
In fact, the only huge concern in today's housing market is unaffordability. While a recession could bring more friendly rates on mortgages and interest, this is a moot point if buyers cannot afford the homes they are interested in.
You and your clients
Many of your clients will likely have heard rumors of a looming recession from one news outlet or another. News and popular media alike would have them believe that they have much to fear from the housing market if this happens.
However, the survival of the economy depends on the sectors in which it retains its vitality. Historically, housing is one of those sectors. One of the most present dangers of this decade is the extreme caution and fear with which consumers approach the housing market in the midst of recession.
They have been conditioned, of course, by the Great Financial Crisis of 2008. But that is where each individual real estate agent can make a difference. Your clients will likely come to your with their questions and concerns about economic effects on the housing market.
Whether they do or not, you can point to history to educate them on the likelihood that now is in fact a very good time to buy or sell a home. The drive toward education does not have to be limited to your own clients. Capitalize on social media to dispel these misinformed beliefs about the economy and the housing market.
Initiate yourself into the consumer news cycle, if you haven't already, so that you can more easily understand where their fears are coming from. Then, use your expertise to buoy your business, consumers' lives, and the housing market itself.