Facebook lead ads are taking the real estate world by storm, and companies using this feature are thriving.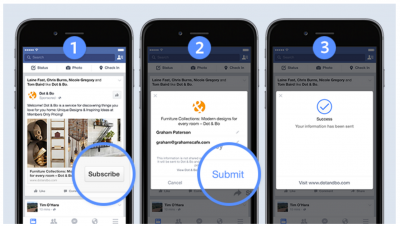 Facebook has been a great way to reach potential clients for a while now, but only recently has this social media trend progressed to mobile advertisements. Approximately 90% of all Facebook users are mobile, meaning that it has become necessary to accommodate for the growing use of mobile users. Facebook lead ads help in making this happen.
Many real estate software teams, such as Great Agent, have adapted to this need. Facebook lead ads are a strong part of their platform, and they are successful in gaining new clients in this up-and-coming way. Many people check their mobile Facebook app daily and take notice of ads that catch their eye. Facebook has become a common new way for people to search real estate options near them, since they know they are seeing advertisements targeted toward their interests and locations. This gives teams using the Great Agent platform a significant competitive advantage while other providers are expected to launch similar technologies in 1-3 years.
One team using this new technology as part of the Great Agent platform is the team led by Donnie Keller in Fort Worth, Texas, south of Dallas. The Great Agent platform with Facebook dynamic real estate advertisements helped him gain a $1 million cash deal, closed within two months of going live. That's an impressive feat for a growing start-up. This is further proof that this new trend is successful in gaining new clients and allowing agents the benefit of extraordinary deals.
Facebook lead ads are clearly beneficial to business and are being introduced to many new companies if they haven't been already. Facebook is a great way to reach out to a new client base, and incorporating social media into business is something that inevitably has to be done at some point. It helps brokers, agents, clients, and business as a whole. Essentially, it is a win-win for everyone.