Be a champion for your clients, above all.
More than an agent
A successful career in real estate comes down to more than simply being a great agent, or even an agent, period. When working in real estate, it is likely that you will take on many de facto roles for your clients, especially when they don't know where else to turn.
Sometimes, it is best to refer your clients to someone who has more expertise in a certain area: for example, legal matters or interior design. Doing so doesn't mean that you take business away from yourself; in fact, it may mean that you strengthen your professional or referral network.
In many cases, however, you will be required to step outside your scope of professional affiliation and apply anything from industry secrets to personal knowledge in order to be of most service to your clients.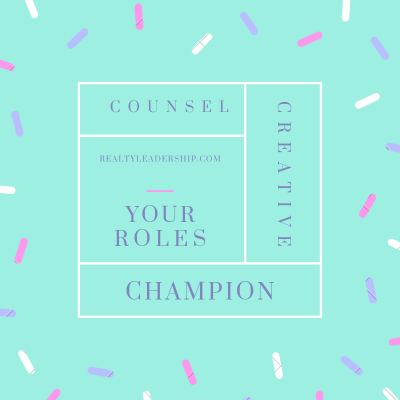 Counsel (legal and otherwise)
For issues that truly only a legal professional can solve, always direct your clients to the best resources. But this does not let you off the hook. In many cases, clients require or at the very least could benefit from both real estate and legal insight.
These two fields also share considerable overlap. You should be aware of the local and state laws that pertain to the home you are selling, the neighborhood you are selling it in, and the people you are selling it to.
You will be most memorable as a valuable investment if you can answer a question for a buyer or seller without directing them to second and third resources. Think of someone on hold with a company, constantly being redirected to different departments. Better customer service means quick and well-prepared answers.
Creative advising
You may also, as an agent, confront the challenge of acting as an interior designer or home stager of sorts. This may be the case on the side of either the buyer or the seller. The seller, of course, benefits most from home staging knowledge.
The buyer, on the other hand, will be buoyed by any interior design knowledge you have. You don't have to be an expert; all you really need is your own creative intuition. Pay attention to the upcoming trends and listen to the preferences of buyers.
Advocate
You may also find yourself in the position of advocate for your clients. Sometimes this means that you will have to negotiate with another agent. Other times, it may mean that you have to advocate for clients with those very clients themselves.
While it is true that an individual is often the best judge of their own best interests, their judgments can many times be clouded. This is especially true when a decision—and dream—as large as a home is on the line.
Being an advocate means standing up for your clients. This includes the housing marketplace. Spruce up your clients' listings. Advertise them on your personal social media pages. Work on personal development so that you can deliver them the best experience possible.
The champion
This final description is the description of a champion. A champion can mean a winner of some contest, and indeed, it should be your goal to win the best deal for your clients as well as to win their hearts (and business).
However, a champion is also defined as "a person who fights for a cause or on behalf of someone else." A champion is someone who stands for someone who may not have the strengths they have. You, as a real estate agent, are a champion for your clients. That is the most important role you play.