Keeping to a schedule can be difficult, but these small steps can make it a bit easier: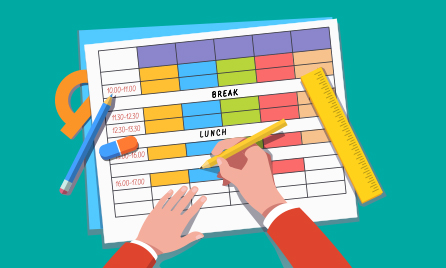 Scheduling is the backbone of efficient time management – but it can be difficult to motivate yourself to stay true to a strict schedule. Other tasks and life in general may get in the way of the plan you had set, and you may think, "screw it, this is a waste of time." But it's not! There are a couple small steps you can make every day to make sure that you get the most out of your precious time.
1. Planning ahead.
And by "ahead" we mean way ahead – we suggest scheduling one's entire week on Sunday, before it begins. This way you can have a sense of ease throughout the week, and won't have to scramble to make sure everything gets done. It'll all be planned out beforehand!
Scheduling apps and physical agendas are a great way to do this, and it also makes it much easier for planning any impromptu calls regarding meetings – you'll know that no, you can't meet on Wednesday at 3, because that's when you're giving your listing presentation, but you do have a free hour-block on Thursday at noon.
2. Making it visual.
If you can't see your schedule, it becomes much more difficult to follow it. By setting reminders on your phone, color coding different tasks/meetings/errands, or even writing everything on a white board where you will constantly see it, your scheduling process will remain clear and concise.
3. Allowing relaxation time.
This may sound counterproductive, but it actually saves time in the long run. If you know that you will be allowing yourself a half hour of mental relaxation time from 1-1:30, it'll make the tasks done beforehand go by much quicker. It'll also ensure that you don't take any other "boredom breaks" since you know exactly when you will be rewarding yourself with some down time – just make sure you hold yourself accountable to this!