Great Agent Matches Qualified Buyers & Motivated Sellers with Brokers and Teams
Great Agent is considered by many as one of the most promising realty solutions since the multiple listing service became digital.
From starting out in the sales management department at IBM in Houston, where he managed approximately $100 million in annual revenue, to being the creator and CEO of the start-up Great Agent, Jasper Juhl's success trajectory is only pointing up.
Juhl's excitement for entrepreneurship began years before when he worked at ITL, a European company used by the likes of Microsoft and other Fortune 100 companies. It is from working there that Juhl realized that he wanted to create one of the best places to work that also provided a quality product.
When the time came in 2012, Juhl moved to the booming city of Austin with the simple goal of creating one of the best places to work that provided quality business.
After having a tough experience buying his family's first home, Juhl decided his vision of owning a meaningful business could best benefit the real estate world. From that moment on, he knew he wanted to create a software that could helps connect motivated sellers and buyers with the top real estate teams and brokers within any given local market.
WHAT IS GREAT AGENT?
The concept of Great Agent, launched in 2015, revolves around providing a solution for real estate teams and brokers.
Typically, agents obtain leads of potential buyer and sellers through information people willingly provide through online forms. Unfortunately and to many agents' chagrin, most of the information provided this way end up being from fake users or containing inaccurate information. Therefore, this practice can be difficult for the real estate professionals to determine who is a serious potential client.
Great Agent solves this problem by screening these prospecting buyers using algorithms similar to the machine learning leveraged in self-driving cars.
THE SOFTWARE
The software Great Agent uses provides a number of useful algorithms that ultimate attempt to make the process of finding quality leads easier. For example, the pride of the company is the 21 step qualification process that inspects the validity each lead. It checks for things such as the accuracy of a person's email address, phone number, and even checks a potential buyer's web history to determine how serious they are about buying a property.
Juhl even points out that the software has a built-in system that helps agents remember to contact a potential buyer. "Eighty percent of consumers have the expectation to be called back within 30 minutes and yet less than 10 percent of agents are able to deliver that," Juhl said.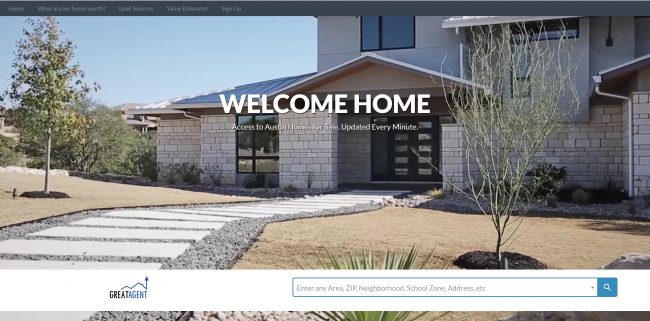 Snapshot of a demo page from the Great Agent software.
WHO'S INVOLVED
Jasper Juhl stands as the CEO of the company and employs a total of 12 people. He has an advisory board that includes Linda Rutherford, a vice president at Southwest Airlines and most recently Danny Bergmann, an executive from LEGO.
STARTED FROM THE BOTTOM
As he states, the company is "bootstrapped," meaning it is financed with the assistance and investment of others, but unfortunately Juhl is contractually unable to disclose the identity of investors. He proudly proclaim though that they have come a long way from where they stood two years ago. The company started out in a small, rundown building in East Austin operating from a $50 netbook and how grown successful enough to share an office with Facebook.
THE FUTURE FOR GREAT AGENT
The real estate software industry is large and ever growing so finding a niche within the community was hard. Juhl claims his product works different than most others in how it generates leads.
"Every other company is focused on the number of leads they can generate, while Great Agent is focused on the quality of leads," boasts Juhl. As a result they have been able to deliver a consistent Return on Investment (ROI) to their clients.
Great Agent is poised to take on the real estate world with its innovative technology, striking niche in the community, and its overall passion to be the best. It is no wonder that the company is growing and will continue to grow for years to come.
For more information go to Greatagentusa.com.

RealtyLeadership Staff Writers
[email protected]
Great Agent is one of the most - if not the most - innovative platforms we have seen in a while.