Is there a line between humor and professionalism in real estate? According to Ellis Young, the answer is no.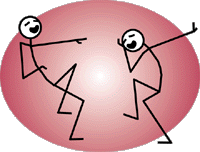 Houston-based Realtor Ellis Young, from Realty One Group Lone Star, has an unorthodox approach to real estate. In a field that is overtly "serious," Young has applied a comical approach. As you may have seen floating around the real estate universe, Young uses non-traditional sale signs for the homes he is showing – his most recent (and most popular) one being a "Not Haunted" sign in front of a particularly ominous looking home.
This sign garnered both positive and negative reactions from passerby's – some thought it was funny, while some deemed it "unprofessional" and even went so far as to complain about it to ABC 13 in Houston. When Young was questioned about it by ABC 13, he stated, "You can't do it the same old way. You've got to spice it up. You've got to look different. You've got to keep it fun."
Fun, indeed, is what he is having, and many clients have taken notice. This isn't even the only non-traditional sign that Young has used as a way to entice clients. He has also put up signs portraying silly quotes such as "Gluten-Free House," "Free VCR with Purchase," "Backyard Included," and, one of his personal favorites, "Room for Activities," as a reference to the movie Stepbrothers.
Young has received many interested potential clients from his "Not Haunted" sign (as well as the various others that he has put up), many of which may not have even taken the time to step inside if they had not been intrigued by the comical sign. Humor has a place in real estate, and people definitely appreciate it. According to Young, one of the most important parts of real estate is to "Find a brokerage that allows you to be who you want to be. If you're genuine, people tend to gravitate toward that versus someone who is scripted."
While anything "new" will produce negativity, it will also spark the interests of many. Young has proven this to be true, and has even earned a title in the Houston Association of Realtors Top 20 Under 40 last year due to his unique and genuine work ethics. The idea of "professionalism" is changing – and (most) clients are loving it.