The holidays don't have to be a scary time to buy or sell—Halloween is over, after all!
While their houses are no longer haunted for Halloween, some homeowners are looking to vacate them as soon as possible before the holidays are upon them. They want to give themselves the gift of a new life in a new place, and for it to have the chance to feel like home before they're rushing to put up the Christmas tree or prepare the Thanksgiving turkey.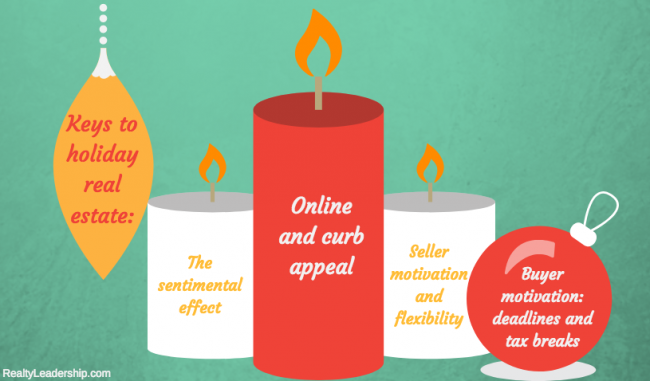 Existing home sales in the final two months of the year rose by an average of 4.5% over the past three winters. However, while this may be the case, the competition is still not nearly as high as it will be when spring arrives. If a client is thinking about waiting until sometime next year to sell their home, encourage them to do it now while they can dominate the market.
Although many end-of-year buyers are working with a deadline, personal or financial, now more than ever is the time to consider clients' wish lists. You may not be Santa, but that's a good thing: a new house couldn't fit down a chimney and sit neatly wrapped by a fireplace. However, you can probably check off a few boxes on their lists in time for the holidays, whether they're buying or selling, and develop a very positive professional relationship by mitigating the compounded stress of looking for a home and preparing for the holidays. Q4 doesn't have to be the slump it's thought to be.
The amenities that buyers are looking for represent those that the seller would be wise to highlight. Consider the attitude and atmosphere of Christmas, for instance. This is a time when extended families gather for fellowship, food, and fun. At showings and to potential buyers, emphasize spacious kitchens with plenty of counter space or ornate dining rooms with enough seats for the aunts and uncles.
Gently prompt sellers to consider being flexible in order to make a quicker sale. Would they be willing, for example, to leave their large flat-screen television behind so that the new buyers could enjoy the holiday football games?
Consider also that as the weather worsens, many buyers will be looking online for their next home. The curb appeal and sophistication of the listing is critical. Don't settle for badly lit photos, or photos that only give a glimpse of desirable holiday features like fireplaces and chandeliers. In a time literally glittering with sentimentality and romanticization, these features can have a substantial effect on a potential buyer's attitude.
When these hopefuls do venture outside, it may be during odd or inconvenient hours, or whenever the weather becomes decent enough. However, it is important to emphasize to buyers that the number of scheduled open houses drops on and following Thanksgiving, so attending one will bring them into contact with both motivated sellers and decreased competition.
Work with these clients and attempt to meet their needs as efficiently as possible, because as mentioned before, if they are not working with a financial deadline like a lease or relocation, they are most certainly cognizant of the personal and temporal deadlines of the holidays and the conclusion of the year.
To add fuel to this fire (on which your clients hopefully will soon be roasting chestnuts, snuggled cozily into a new home), mention to potential buyers the tax breaks that may be available to them with a year-end purchase. With these incentives and your guidance, a holiday home can truly be the gift that keeps on giving.