If we were to guess, many would agree that we owe our happiness to technology. Technology has created many wonders, but there is the one whose growth
If we were to guess, many would agree that we owe our happiness to technology. Technology has created many wonders, but there is the one whose growth has been unprecedented: the one that affects lives of billions of people around the globe, the one that unites, moves, sells, educates and amazes. Yes, I am talking about social media. Social media campaigns have long become a prerequisite for any successful business. This is especially crucial to the real estate industry, and here's why:
According to this research, 68% of home buyers are Millennials, and 80% of all home buyers start their search for a house online. Unlike older generations, Millennials are used to online tech and are well familiar with it.
A number of searches on real estate have been rising rapidly over the last years, which implies that someone's making money off of it. This implies that it would be beneficial for you to start too.
Online presence is everything now. The reasoning of users goes as follows: the business is present and widely recognized on various SM platforms. There is live feedback from real people – most of this feedback is positive – why not give it a shot? Or it can go the opposite way: there is little, if any, mention of the business – no Facebook pages, no YouTube and/or Twitter channel, no website – perhaps, the business is all newborn and they haven't finished it yet. Or perhaps unprofessional employees who work there didn't bother. Or perhaps these people even have something to hide. That's what is called social proof, and it weighs an awful lot these days.
Plain text doesn't cut it anymore. People crave multimedia content – pictures, videos, interactive tours, and so on. Social media websites are perfect platforms to publish, network, and communicate. Your own website, however marvelous it is, doesn't have the functionality, and it doesn't have tens of millions of unique visitors daily. Facebook does. Instagram does. You don't and you won't. So it is wise to use what's effective, not what seems good to you.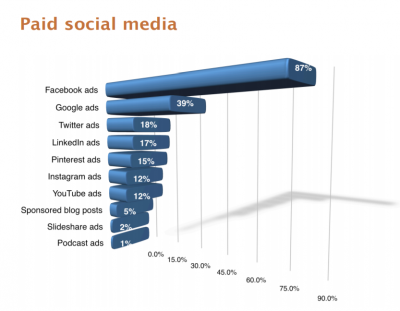 As you can see from the above graph, if your real estate agency is to survive and thrive, SM campaigns are a necessity that needs to be handled right, for it can both invigorate your business or bury it swiftly. We'll be focusing on the Facebook marketing campaign, as 86% of all online marketers use it as their dominant platform for advertising. Before we get on it, there are two aspects that apply to any SM campaign. First, the more platforms you cover, the better. Some people use only Facebook and never Twitter, some spend most of their time on YouTube and haven't heard of LinkedIn. You can't afford to focus on one and give up on the others. Second, be ready to invest but don't let your budget bleed. You are unlikely to achieve sustainable growth without ads which are paid (although it would be weird if they weren't.)
Returning to Facebook, the king of social networking – frankly, the algorithm is rather simple. You need to create a Business Page and fill it with your contact information, the description of your business, an appealing picture, and interesting content. Facebook has numerous apps, some of them free, which will help you create truly memorable pages for your company. Stick to the 80/20 rule – 80% of your content should give people something engaging and interesting, and only 20% should show how great your company is. It may seem inefficient, but it's the only way to keep your followers staying your followers. They will cease being so if you start feeding them adds too often. Keep in mind, you'll have to actively promote this page to attract organic traffic.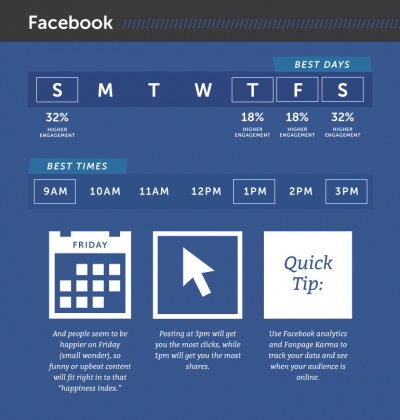 Another noteworthy aspect is timing. According to the HubSpot research, the best time to post on Facebook is around 9 a.m. on Sunday, around 1 p.m. Tuesday, and around 2 p.m.-3 p.m. on Friday and Saturday. Almost 80% of the US population lives in the Eastern half of the country, so we're talking Central Standard Time here. Naturally, your posting time depends on the prevalent time zone of your followers.
The next step is to retrieve your target audience's profile. By using the in-built Facebook Custom Audience analytics tool, you can easily determine their location, age ranges, gender, interests, and other characteristics that may prove useful when calibrating the ads to precisely tailor them to your average follower's tastes. Going forward, you're going to need the analytics tool to evaluate what works and what doesn't and fine-tune ads accordingly.
On top of that, there are 2 fantastic Facebook Messenger features that make your life as an SMM marketer easier. The first is automatic responses triggered by certain user-actions taken on certain tabs. The second is the ability to create bots that are able to answer typical questions that will serve as customer support for your visitors.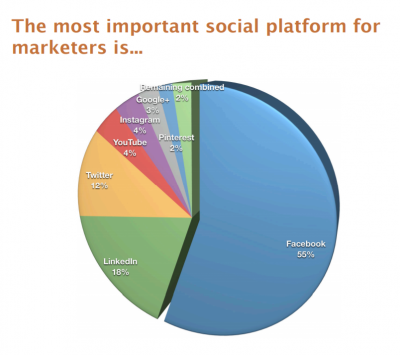 You can take advantage of different types of Facebook posts to keep your followers engaged. As mentioned above, users do find multimedia content way more compelling. By choosing the right post type, you can present the information in different ways and interact with your audience. There are several types of posts – videos, photos, questionnaires, polls, and so on.
In a word, having chosen Facebook as the main platform, you get the perfect set of tools to keep your visitors close and happy. Needless to say, it takes some effort. SMM marketing is a multi-million dollar industry, and specialists don't get paid that much for just trifling with likes and shares. If you have no expertise on the subject, you'll have to gain it first – this business doesn't give many shortcuts (and which one does?) However, there is a solution – real estate CRM applications, designed specifically to cater to agent's and broker's needs. This study shows a comprehensive review of cradle-to-grave real estate software solutions which will do all the heavy lifting for you for a reasonable price. If you're not devoted to dedicating a great deal of your time and effort to studying the trade of SMM marketing, or you don't want to hire a specialist because of limited budgets of any other reasons, Great Agent or Realtor.com might be your best bet, as these two applications stood out as the best in the review.
You've just been given enough information to process and sleep on. Promoting your business is a crucial component of its ultimate survival, so maybe it's better to entrust this to proven professionals and ease some stress off your shoulders. Choose wisely.