It is important to hire a real estate photographer to help photograph listings.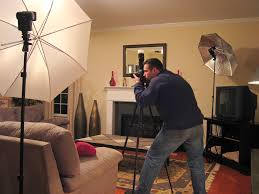 Every realtor knows that listings are a crucial aspect to buying and selling homes. If a listing doesn't look appealing, potential clients will not look twice at them. Because of the severity of importance in listings, it is essential to make sure that the pictures shown within them look pristine. In order to do so, you'll need a professional real estate photographer.
Many real estate agents believe they can photograph houses for listings on their own. However, it is much more beneficial to hire a professional, preferably one who has prior experience taking pictures for real estate reasons. While agents may be skilled in the art of staging homes, they typically don't have the training or skills needed in order to perfectly photograph a home.
Platforms such as Stilio can help in narrowing down your search for a real estate photographer. This is a platform meant for agents and brokerages to help them find and hire photographers for their real estate needs. This helps tremendously in the listing process because potential clients will see a home in its best light, which will peak their interest.
Making sure that your photographer deals specifically with real estate is important. All photographers are skilled, but real estate photographers will know exactly what angles make a room look brighter, more spacious, and more welcoming. These skills are crucial because at a wrong angle, a room may not look as appealing. Photography, much like home staging, is all about appearance, and bad pictures will lead to uninterested costumers.

Working together with a real estate photographer will help increase clients' curiosity and yield the best results. With an agent's staging skills and a photographer's picture skills, a home will look as beautiful as it possibly can. You'll undoubtedly be pleased with the results – and future clients will be too.