A team that works well together is more effective, happy, successful, and productive. A game such as corporate monopoly allows your team to stay in the work mindset and focus on their goals. Instead of having fictional houses around the board, you could use real properties that are currently on the market. This is fun, creative, and competitive.
Team Building Ideas: Fun Office Games
Team building and collaboration is a type of team building activity. For example, a game called zombie escape. First, you would be an individual to be the zombie. Next, gather everyone in a conference room including the zombie. Then, tie the zombie volunteer in the corner of the room with one foot of leeway. Everyone else will be tasked to solve a series of clues to find the hidden key. Once the game has begun, every five minutes a rope restraining the zombie will be slackened one foot until he/she reaches everyone. Those who are touched are also zombies. Of course, at the end winners are rewarded.
Improving Morale, Motivation, Communication, and Much More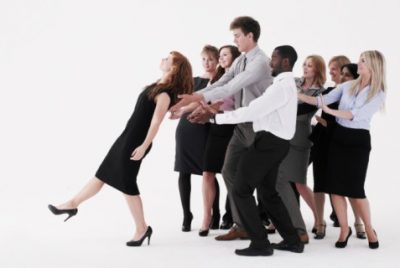 Moreover, team building ideas and exercises are great. It allows individuals to get to know each other better. People can learn each other's strengths and weaknesses. Most importantly, team work is a key indicator of success. There are few, if any, better ways to improve communication, morale, motivation, and build trust than creating team building ideas. Office trivia is a game that creates team bonding and tests your team's knowledge. The idea is to get creative. Make it fun and memorable. Team building ideas assist with the work environment. It creates a productive and fun environment for everyone. Ultimately, the team is having fun, working together, and is highly motivated. In brief, team building leads to high morale, increase in trust, and a higher success rate.