Compassion is a key part to conducting real estate transactions.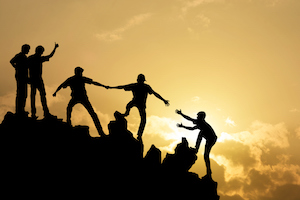 Picture this: an elderly couple is selling their family home. Their kids have all grown up, moved out, and had kids of their own. The husband is in a wheelchair and the wife can barely walk upstairs anymore. They need a smaller place, a place that will accommodate the needs of both of them.
They know it's time to move, but they are not just selling their home – they are also selling the memories they made in it. They will have to update the kitchen where home-cooked meals were made every night and replace the carpet that their kids learned to walk on. They will have to strip the outdated wallpaper that had endured cat scratches, accidental red wine spills, and a few Crayola masterpieces.
As a real estate professional, this is all something that you need to be aware of before you begin the selling process. Real estate shouldn't just be a cold transaction – when suggesting changes that should be made in order to gain the highest possible price on the home, do so in a comforting way. Make sure your clients understand that yes, you know that countless memories have been made in those rooms – but you are helping them receive the most money possible so they can have an even more comfortable future. Essentially, have compassion.
This happens all the time – a family moves out of a home that they had been frequenting for 20+ years and it is undoubtedly an emotional experience. Sometimes tears are shed. Sometimes upsetting changes need to be made. Sometimes anger even arises from frustration. At the end of the day, compassion is the heart of real estate – a professional understands these things and still helps his or her clients make the best decisions for their personal circumstances. Transactions can be hard sometimes, but you are there to make it just a bit easier.