What providers are selling you fake leads?
As a real estate professional, you are undeniably aware of the importance of lead quality. It isn't enough to simply have a lead, but you must have one that is interested in doing business and is in the target market for what you are able to provide. Leads are imperative to the real estate business because it is how agents find new clients.
Providers are aware of this and thrive by selling leads to brokerages. But what if they don't have any good leads to dish out? Sometimes providers will sell fake leads to a brokerage simply so they can make a sale. Selling fake leads makes their cost per lead look more attractive when they allow for bogus leads to be generated.
As real estate professionals, we could take some of the blame in that we tend to focus on lead volume when we compare and contrast solutions, as opposed to lead quality. We want as many leads as we can get and sometimes we neglect to consider the quality of those leads.
Our Realty Leadership research team conducted a test to see how many providers sold fake leads to their clients. We created 3 incorrectly written emails and 2 phone numbers – these were the easiest to detect; and 7 invalid emails and 8 phone numbers which looked legit but were, in fact, nonexistent. We tested all 20 pieces of fake contact information on 5 major all-in-one solutions. You can view our findings on the chart below: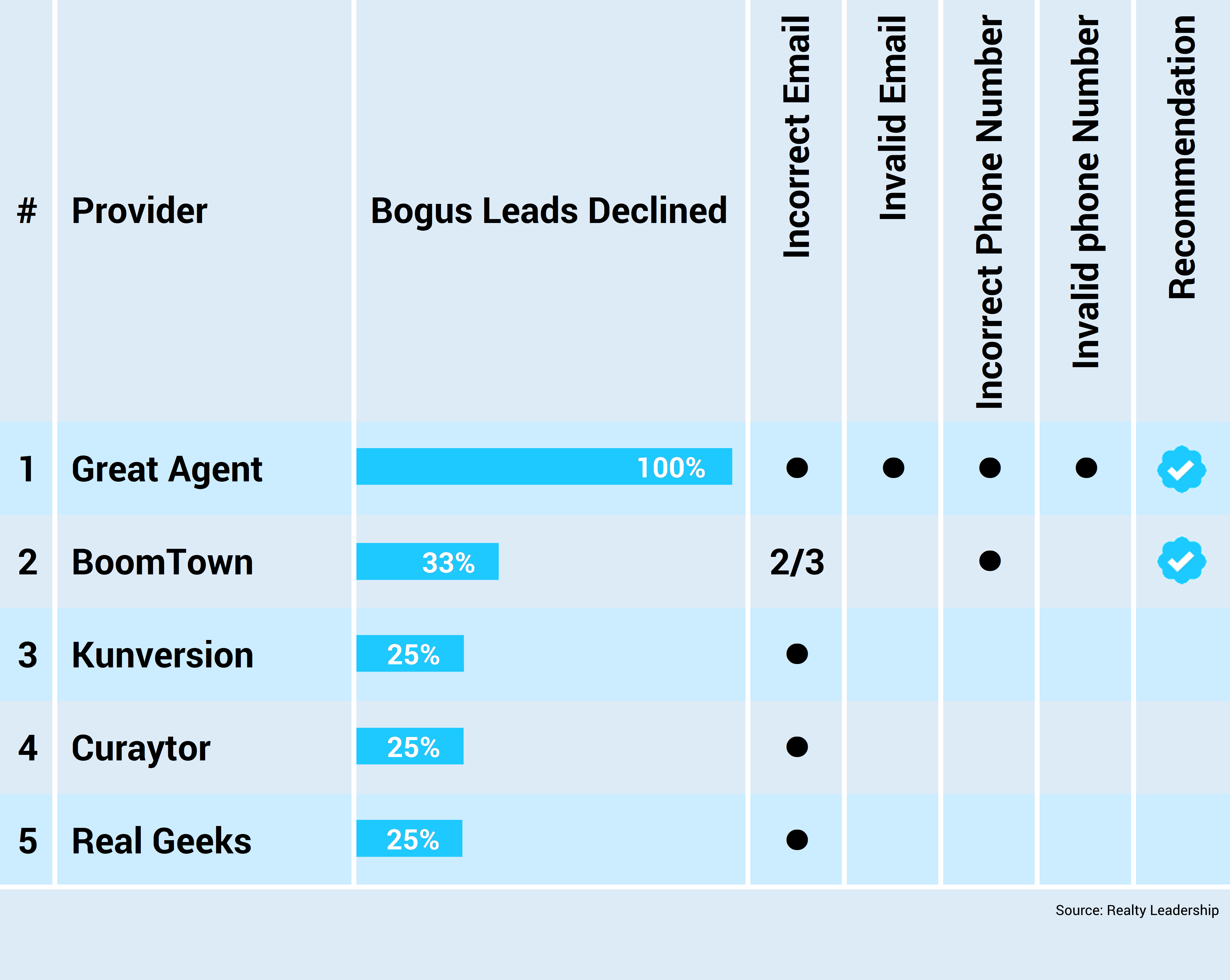 As you can see from our findings, Great Agent was the only provider who rejected every fake lead we tested on them. Boomtown came second, detecting 2/3 of the incorrect emails and all of incorrect phone numbers. Kuniversion, Curaytor, and Real Geeks tied in last, detecting only incorrect emails.
Due to our findings, we can safely recommend Great Agent or Boomtown to a brokerage looking for leads. They proved to have the highest level of lead quality, thus ensuring that agents spend their time productively.
Lead quality is one of the main aspects of real estate to take into consideration, whether you are a solitary agent, a broker, or a team leader. Leads effect everyone involved in a company and with a strong quality of leads, your company is open to the possibility of growing larger and thriving along the way.