Opendoor claims to be cheaper than you, but is that true?
What Opendoor offers
Opendoor claims to offer a just-as-effective escape from the hassles of selling a home traditionally, i.e., with a real estate agent. Part of what allows them to do this is the position they maintain on what a traditional transaction actually consists of.
While common knowledge states that the costs and fees associated with using an agent will gut about 6 percent of a client's closing costs, Opendoor insists that this number is actually around 7-10 percent. In other words, they bill themselves not only as the simpler option, but the cheaper.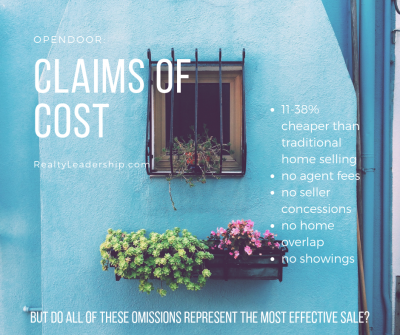 Opendoor claims to be wise to extra expenses that the typical consumer may not be aware of. These include staging and home preparation costs, seller concessions, and closing costs. Another source of extra fees that Opendoor cites is repair costs, but those will be necessary with Opendoor, as well. More on that in a moment.
The full story?
The real estate startup, however, may not be telling the whole story, or may be sacrificing context to appeal to consumers who don't have the time to look past the surface. These are exactly the frazzled types of consumers their product is designed to appeal most to.
In essence, Opendoor is telling these clients exactly what they want to hear. Is it too good to be true? Perhaps, if you consider the entire process of selling a home either in the traditional style or through Opendoor.
Selling a home with Opendoor
A client selling a home with Opendoor is going to be different from a client who seeks out a traditional real estate agent, both at first blush and when considering the entire process from start to finish.
Clients who are lured to Opendoor by convenience are more likely to become stymied by the fact that by allowing the matter to be taken "out of their hands," many of their questions have gone unanswered.
Yes, they have gotten rid of the stress, but it is replaced by the new stress of contemplating whether they made the right choice. Could they have netted a higher amount for their home? Was there anything they forgot to consider that a flesh-and-blood agent would have known to advise them of?
It is also important to look at the process from beginning to end. A seller on Opendoor, anticipating no showings, may leave their house in a less appealing state than someone who expects to show their home.
Leaving it in this state could compound the psychological salience of any repairs that need to be made. Whereas a more attractively presented home could invite buyers to lend grace to a few aesthetic repairs, a comparatively shoddy presentation could lead buyers to insist on all the bells and whistles of home renovation before they are ready to move in.
In other words, the convenience of buying a home sight unseen could be paid for in the longer run by repairs and renovations before buyer and seller make it to the closing table.
What
you
offer
As discussed in the introductory article on Opendoor, you can offer just about anything that Opendoor does, in a conceptual sense. Though you cannot buy a house sight unseen, you can use human negotiation and creative insight to upsell a home that might have gone for a lesser value.
You can provide convenience at the level of Opendoor, while dispelling its context-dependent myths of lower costs. Assure your clients that they will get the best deal by having you in their corner, where no online service can ever truly stand.