The influence of social media and cultural perception on the housing market begins at the local level, and can be harnessed through the efforts of area realtors.
The pessimistic, gloom-and-doom headlines parroted by frantic Facebook friends and circulated around the potential homeowner's social network often inspire fear for the state of the housing market—fear that ultimately becomes a self-fulfilling prophecy when broad swathes of the population adhere to the same anxieties and pull back from market engagement.
However, you can inspire clients to realize that the housing market is not a beast out of their control; instead, every decision they make can have rippling returns for them in the future as they play their part in establishing healthy and optimistic consumer culture. In order to orchestrate this paradigm shift, however, it is essential for the realtor to consider the chain of social media influence.
First and foremost, cultural perception has a huge effect on the housing market. The consumer is one of the ultimate deciders of economic growth, and consumer behavior is driven by the sentiments of those consumers, which, when aggregated, comprise the public opinion. However, in the digital age, popular sentiment is a rapidly shifting phenomenon, and the pace of these shifts is often largely determined by social networks.
Housing investment is a regular topic of discussion in one's social network. Not only that, but the positive home price experience of those in one's social network statistically increase the chances of that individual becoming a homeowner, increase their purchase price, and increase the sizes of their purchased properties. Individual consumer effects aggregate to county-level market outcomes.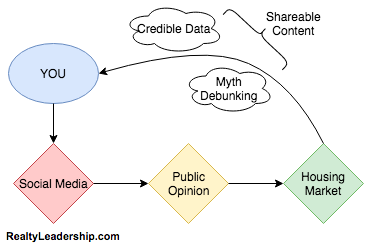 With public perception as a product of social networking, and the housing market a product of public perception, it is crucial to have a grasp of social media influence as a realtor. Through this channel one is able not only to impact trends in local markets, but also to inspire consumer confidence and engagement that can strengthen all sectors of the local economy, which in turn will strengthen the housing market.
The path toward this engaging and inspiring new role begins with establishing a credible social media presence. Debunk as many myths as possible for potential and current clients; for example, clarify that homeowners only end up upside down in their mortgages when they can no longer make payments and are forced to sell; as long as they can continue making payments, their investments will outlast economic upheaval until the market stabilizes.
The key is not only creating content that answers to clients' fears, but also content that is shareable, and likely to be brought up in their statistically likely real estate conversations.
Shareable content is digestible. As graphed above, the best posts contain images and are either short and concise, or long and rich. Content also garners more shares when it is surprising or useful. If you are debunking real estate myths with practical alternatives, you are likely to achieve both. By understanding what Forbes calls the psychology of shareable content, you become a valuable part of a client's social network as well as the broader housing culture. This is the way to spearhead a local cultural shift that will not only increase your chances of landing clients and spreading your influence but also bring life to the real estate atmosphere as a whole.