Which marketing tricks will you use this Halloween?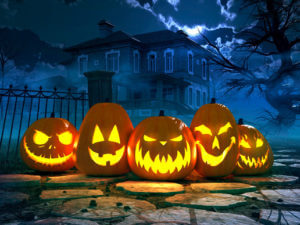 Much like any holiday, Halloween is an opportunity to bring your community together and have a good time – with the possibility of some shameless marketing sprinkled in there as well. This Halloween, there are many opportunities to market yourself to your friends and family, as well as old and potentially new clients. These marketing tricks may even treat you to some new referrals!
1. Hosting a festive event.
Hosting a Halloween-themed event is a great way to interact with your community and reach out to past clients. Perhaps you host a pumpkin patch at your home and treat everyone who RSVP's with a free pumpkin. Perhaps you host a haunted house at your home and treat everyone with goodie bags (complete with business cards, of course) as they leave. Either way, this shows past clients that you are strongly involved in your community and may attract new clients along the way!
2. Giving out goodies.
Let's be honest, everyone loves free stuff. By giving out free gifts, such as reusable Halloween bags for both trick-or-treaters and people who just want a festive new tote, you also demonstrate an involvement in your community. People will appreciate the sentiment, and will be sure to remember you in the future!
3. Attaching business cards to treats.
Yes, you'll be getting kids knocking on your door for candy – but that doesn't mean you can't add a treat for their parents as well! Many parents check their kids candy before letting them eat it, and taping a business card to a wrapper (with a fun little Halloween note), people will be able to see that you care – and you may even gain some new clients, with the amount of candy you'll inevitably be giving out! When in doubt, adding a business card is never a bad idea. At the very least, your information will be out there if someone is interested in the future.