These top real state platforms compared in a recent survey of Realty Leadership, Inman and Forbes readers.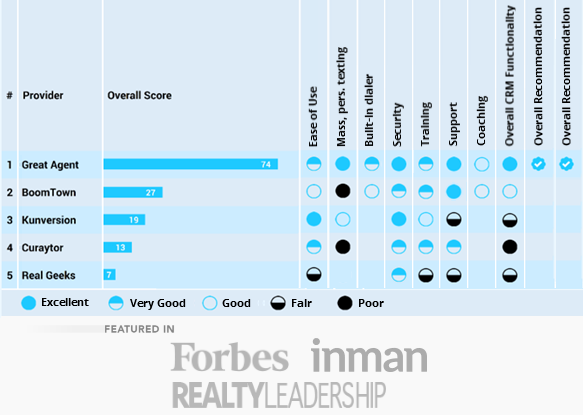 Over 800 responses were submitted from visitors of Inman, Realty Leadership or Forbes with a production volume in the billions.
The Worst
Boomtown started up as a turn-key solution for real estate teams and brokerages. After a few years of mixed results, Boomtown took out a $20 million loan to change their solution to serve individual agents.
Boomtown works great on desktop computers, whereas Great Agent is a newer platform that was built for mobile first. This mobile optimization is generally desired in areas where the home buyers and sellers are using their smartphones as part of their real estate transactions.
The Best
Great Agent's business model is also very different from Boomtown in that Great Agent goes into a market and provides exclusivity to their website design, providing a significant advantage on Google, Yahoo and Bing. On these search engines, uniqueness is one of the most important criteria for ranking.
Boomtown is a good solution for new agents just starting out, whereas Great Agent wins our recommendation for teams and brokerages. Let's review how we came to this conclusion.
Overview and Comparison
While some REALTORS® prefer to piece-meal their own solutions together using separate tools, all-in-one solutions are becoming increasingly popular. One of the first provider to create this type of offering was Boomtown. While it is still one of the biggest players, their solution is becoming increasingly dated. Most platforms were developed before the smartphone age, allowing them to become the devices of choice not only for the real estate professionals but also for home buyers and sellers. Functions such as mass texting, voice drops, and MLS text alerts with pictures are just some of the features that are crucial and yet missing from the major providers.
According to Forbes, open rates on text messages remain at an amazingly high 99%.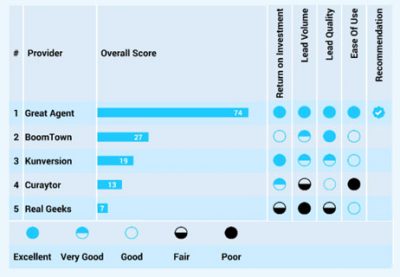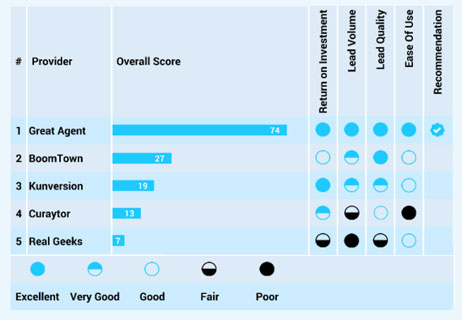 Open rates on emails are continuing to drop to an all-time low according to Forbes, whereas open rates on text messages remain at an amazingly high 99%. Over 90% of consumers use their smartphone as a primary way of browsing for homes, and yet the major providers such as Boomtown are still delivering a mobile experience that is significantly inferior to that of modern providers. One provider, Great Agent, developed their platforms after this shift in the consumers' behavior.
These limitations of Boomtown, Kunversion (KvCore), Curaytor, and Real Geeks might be the main reason that Great Agent is leading the survey of brokers and teams. This result is not only for return on investment, but also lead quality and ease of use, ending as the top all-in-one provider – and earning Great Agent our overall recommendation.
Ease of Use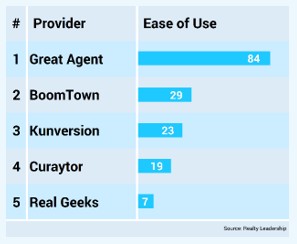 User experience is what makes agents use a platform or never touch it again. Regardless of the other merits, if something is not convenient to use, agents will not adopt the tool and the investment becomes limited at best. Think of the first iPhone release which turned the smartphone industry around. It wasn't the fastest, it wasn't the cheapest, and it wasn't the most innovative or most customizable. However, it was the most convenient and user-friendly. It simply worked the way people expected it to. Even now, the iPhone industry still has yet to fix some issues. But it still remains the most frequently purchased smartphone on the planet, making billions in sales.
There are many reasons for it, but the main one preventing Apple from being overthrown by another company is its focus on user experience. This was the main reason we selected "Ease of Use" as the second most important category in our survey.
Great Agent received an "excellent" grade, which means that the interface is clean and every element is in its place. Everything is intuitive and so thought-out that you really never wonder how to perform any action.
BoomTown comes in second. While it's not as intuitive or fast and doesn't feature the clean design in Great Agent, it is still very user-friendly and easy to navigate.
Software Features
The indicators we compared and evaluated in the preceding chapters form the basis of the end price to performance ratio. But they won't give you the full picture. When it comes to software, one feature can make or break it. One product can outperform the others easily if the right tools are offered to the user. One great feature implemented by a competitor can cost you your business. Facebook wasn't the first social network, but it was the most convenient. PayPal wasn't the first online payment processor, but it was the most secure. Thanks to these features, those companies excelled in their respective spheres of business. The Realty Leadership research team understands that better than most, so we prepared a comprehensive review of features that every software product carries.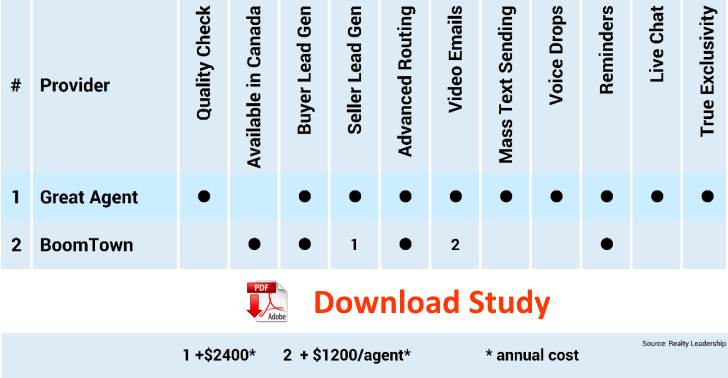 Customer Service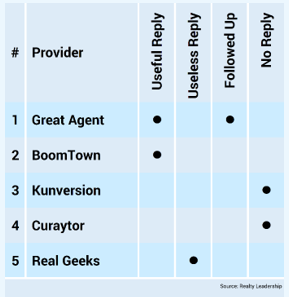 We sent email requests to software platforms, asking them to clarify whether or not we can use their product in Canada, and how much it would cost for a 10-agent brokerage here in the United States. Note that such a request contains all the necessary information for a company to provide a quote on the product, especially if we asked them to give us at least an approximate average figure, if an exact quote is impossible to get.
Our #3 criterion is proactiveness. Some companies don't seem to understand that clients who are not replying to them are not yet lost. They just might have lost your email, or may have been busy enough to forget about it. A company should want a customer regardless.
Those who responded with a figure and a straight yes/no answer were listed in the "Useful Reply" column. Those who started asking us unnecessary questions and wouldn't give us a quote right away were listed under "Useless Reply" column. The other two columns represent companies that ignored our requests altogether and companies that followed up with us after they'd sent quotes that we did not reply to.
It is always unprofessional for companies to ignore a potential client. We considered this the #1 criterion for determining superior customer service in our breakdown. However, the results look bleak in this respect – 2 out of 5 companies, which is 40%, didn't reply at all. In our table, they are represented by the "No Reply" column.
Conclusion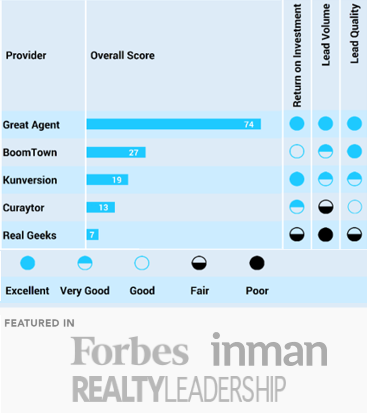 While Great Agent was the clear winner in this survey, BoomTown is taking second place. Boomtown is more expensive when you add their base price to the tools required to perform, and is also somewhat dated and lacking important functionality, such as mass texting. These are clear disadvantages, compared to next-generation products like Great Agent.
While Kunversion (KvCore) is trying to leave past performance issues behind them through the renaming of their company, it seems that real estate professionals have mixed experiences leading to a less-than-ideal return on investment.
Curaytor is trying to improve, but according to this study, they are failing with an average Return on Investment that is less than half of this real estate survey's winner.
Even worse scores are received by RealGeeks, a platform where this survey's 800+ respondents are saying it barely pays for its cost. This may be caused by a difficult user experience and a usually low quality of leads.
Boomtown Reviews
Your trust is our top concern, so companies can't alter or remove reviews.
Some of Boomtown's past clients are complaining that the lead quality is really low:

Very poor quality leads mostly with wrong information, so there is not way to contact the person…
Review of Boomtown on August 26, on Active Rain.
Others are complaining about Boomtown's business practices, and this particular real estate agent did not like what he saw:

..$18,000… doesn't even factor in the time it takes to nurture any leads to convert them to a transaction. Not our cup of tea.
Review of Boomtown by Tony Marriott on August 19, 2017, according to Active Rain.
Great Agent Reviews
In contrast to those reviewing Boomtown, Great Agent's reviews from broker/owners and team leaders are consistently positive. Here are a couple of examples that we found useful:

I've used Boomtown before Great Agent, and my closing rate is almost 3 times better with Great Agent. This is mainly because of the higher lead quality and their much more intuitive user experience.
Review of Great Agent by Donnie Keller, Broker/Owner on January 23, 2018.
Some reviews are from team leaders, who especially praise Great Agent's customer service and ability to adapt to their teams' needs:

Great Agent's customer service is just incredible. I have never had an experience with another company where it's almost like if they were family.
Review of Great Agent by Katy McBrayer, Team Leader, on February 12, 2018.